Raspberry Pi 3B+ – Transparent Acrylic Case – compatible with 3.5 inch display
Includes:
Acrylic Case

Base -1, Long side – 2, Short side – 2

Bolts – 4
Metal nuts – 4
Acrylic nuts – 4
Assembly:
Insert the acrylic nuts into the bolts.
After aligning the board as shown in the Picture below, place the acrylic base over the bolts.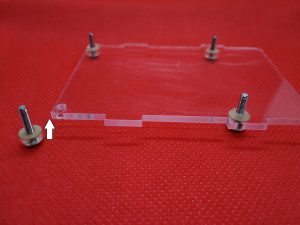 Place the Raspberry Pi Board over the acrylic base.
Insert the metal screws over the bolts and tighten as shown in Picture below.
Arrange the long sides of the acrylic case as shown in picture below and insert the long sides into the base.
Place the top of short side acrylic case and push the bottom in to the long sides as shown.
Insert the next short side and the Acrylic case is fully assembled.
Disassembly:
Invert the unit upside down.
Push down on the 2 sides and open the side acrylic case as shown in the picture below.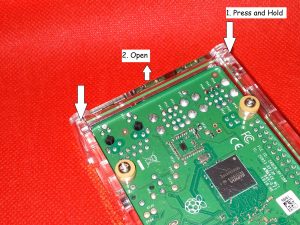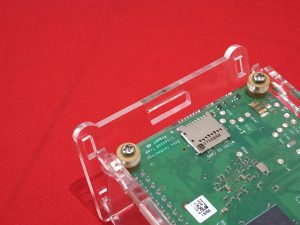 Remove the long sides and dismantle the screws and base.